Genuine MARLES Steering Boxes
MARLES, a very well known name in steering gear for many famous makes such as Aston Martin, Alfa Romeo, Triumph, Daimler, Healey, Allard, HRG and Triumph etc is alive and thriving!
We are able to supply all the parts required for these boxes, particularly but not exclusively P3688, P3689, P3690 and P3691 (these references are able to be found on the main casing casting and may vary). Brand new boxes built to your specifications can also be undertaken, perhaps to replace a different box for which parts are no longer available.
We offer international collection, professional repair and return service at competitive rates via the TNT international courier network.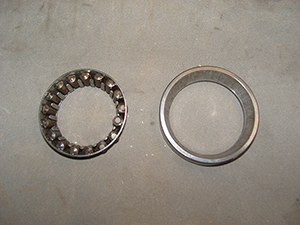 We will shortly have available steering box bearings for the larger MARLES boxes fitted in ERF trucks, BONSER forklifts, some makes of mobile crane, and LEYLAND and BRISTOL buses.
The approximate measurements of these bearinsg are as follows: cup outside diameter 69mm x 12.6mm high with 17 tapered rollers fitted in the race cage.
If you are interested in purchasing any of these bearings please let us know as there will only be a limited quantity manufactured.
ALVIS owners: please note: we do not repair "ALVIS" MARLES steering boxes for Red Triangle Autoservices of Kenilworth and never have done. We are a completely independent private business and have no connection whatsoever to Red Triangle. David Cornwallis would be pleased to hear directly from ALVIS owners of any vintage (car or owner!) who needs help with repairs to their steering box.